Sniper Elite 4 (PS4) BRAND NEW
Sniper Elite 4 (PS4) BRAND NEW
We're sorry we're out of stock, but we can let you know as soon as this product becomes available again.
Enter your details below and we'll email you once this item is back in stock.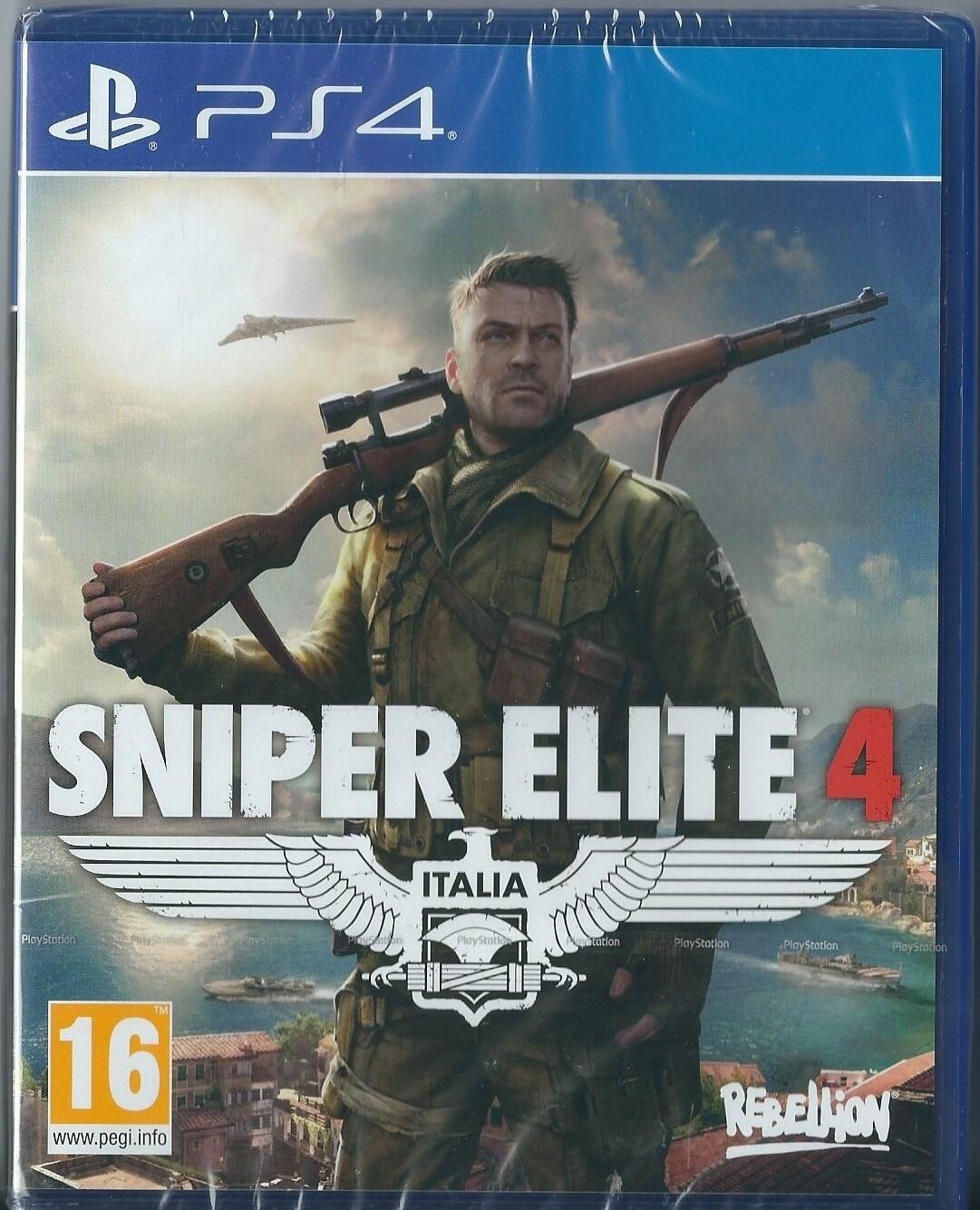 Send this product to a friend
Sniper Elite 4 (PS4) BRAND NEW £19.99
WELCOME TO ITALY, 1943
Discover ultimate sniping freedom in the largest and most advanced World War 2 shooter ever built. Experience tactical third person combat, slick stealth gameplay and epic longshots as you liberate Italy from the grip of Fascism.
With an expansive campaign for 1-2 players and dedicated co-op and competitive multiplayer modes, Sniper Elite 4 aims to deliver a definitive tactical third person shooter with unrivalled sniping freedom across environments many times the size of those seen in Sniper Elite 3.
Running in native 1080p on both PlayStation 4 and Xbox One, Sniper Elite 4 is the first game in the series built from the ground-up for next generation hardware and the first game to offer true next-generation sniping.
Set in the aftermath of its award-winning predecessor, Sniper Elite 4 continues the series' World War Two heritage by transporting players across the beautiful Italian peninsula, from sun-drenched Mediterranean coastal towns, to colossal Nazi megastructures, ancient forests and hidden mountain monasteries.
Covert agent and elite marksman Karl Fairburn must fight alongside the brave men and women of the Italian Resistance to help free their country from the yoke of Fascism, and defeat a terrifying new threat with the potential to halt the Allied fightback in Europe before it's even begun.
If his mission fails, there will be no Operation Overlord, no D-Day landings, and no Victory in Europe.
Thrilling tactical third person combat: As deadly from distance as you are up close, adapt seamlessly to any combat situation and take the fight to Nazi forces with an impressive arsenal of iconic World War 2 sniper rifles, sub machine guns, heavy weapons, traps and explosives.
Award-winning sniping: Experience genre-defining rifle ballistics where every shot counts and where snipers must take account of wind, gravity, even heart rate to land satisfying shots over hundreds of meters.
A truly expansive campaign: Encounter hours of gripping gameplay in each huge campaign level with hundreds of enemies, deadly vehicles and high-ranking Nazi officials to hunt down. Forge your own path to your objectives, find your own sniper nests, discover secret side missions, scour for intel, collectibles and more!
Slick new traversals and stealth takedowns: Climb, hang, shimmy, leap and clamber your way across the game's vast environments to get the drop on enemies and deliver killing blows from behind cover, over ledges and more!
Gaming's most advanced kill cameras: Sniper Elite's acclaimed X-ray Kill Camera shows the impact of your most impressive longshots, melee attacks and explosive trap kills on enemy bodies in bone-cracking detail.
Deep sniping customisation: Perfect your combat effectiveness by upgrading your own abilities via the skill tree, and tweaking key weapon traits such as scope magnification, muzzle velocity, stability and others.
Rewarding, tactical co-op: Play the entire campaign in co-op for 2 players, or jump into dedicated co-op game modes for up to 4 players.
Tense competitive multiplayer: Ratchet up the tension and take Sniper Elite's trademark sharpshooting into unique adversarial play for up to 12 players in 7 modes across 6 custom-designed maps.